Regulations and Safety Guidelines for Cable Railing in Canada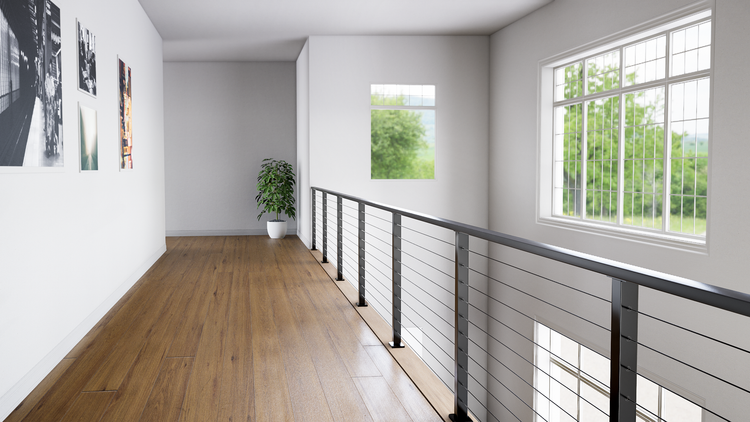 Introduction:
The increasing popularity of cable railings has prompted numerous inquiries about their legality in Canada. As this trend gains traction, it's important to understand the standards and regulations governing the installation of guardrails with horizontal stainless steel cable railing. Here are some of the relevant regulations that you must know before installing a cable railing project.
Cable Railing Height Regulations
The building code specifies minimum and maximum heights for cable railings based on where they are installed: 
For exterior deck and porch railings, the top cable must be 36 inches (900mm) to 42 inches (1070mm) above the walking surface.
Stair railings require a gripable handrail at 32-38 inches tall. You can add lower cables but the top one must meet the height code.
Guardrails along elevated areas like landings and balconies need a minimum 42 inch tall top cable.
These standard heights are intended to prevent falls. Make sure your cable railing plans meet the height regulations for your specific project area.
Cable Railing Load and Span Requirements
Cable railings must be designed to withstand a specified minimum load without collapsing. The building code requires: 
Guardrails must resist a concentrated horizontal load of 125 lbs (560N) and uniform load of 50 lbs/ft (730N/m).
Stair railings need to withstand 200 lbs (890N) of force in any direction at the top.
Infill cables cannot deflect more than 3 inches (76mm) when loaded.
Spacing between cable infill plays a key role in meeting load requirements. Typical spacing is 3-4 inches for horizontal cables, closer for stairs. Please consult a structural engineer to ensure your cable railing design and hardware can support the code loads.
Refer to the latest NBC Canada National Building Code for details.
Choosing Compliant Cable Railing Materials
The cable railing itself should be made of durable, corrosion-resistant materials like: 
Stainless steel: The most popular option, providing strength and corrosion resistance. Stainless steel cable railings comply with code requirements.
Aluminum: Lightweight but still strong aluminum cables are low maintenance. Anodized aluminum can provide extra weather protection.
Vinyl-coated: Galvanized steel or stainless cables with a vinyl coating add color options. Ensure the coating doesn't reduce cable strength.
Avoid plain steel cables prone to rusting. Use cable ends and fittings made of stainless steel or aluminum as well.
Free Design Services – Your One-Stop Solution
In addition to providing clarity on regulations and safety, we offer a "free design service" that caters to all your cable railing system installation needs. Our comprehensive service ensures a hassle-free experience. Contact us immediately for a complimentary consultation and tailored solution.