Explore the Muzata Experience
Cable Railing
LED Channel
Muzata Cable Railing Tutorial
Discover the secrets to mastering Cable Railing installation with Muzata's wide variety of tutorial videos. Click below to unlock the full potential of your project!
More tutorial videos
USC Series Tutorial
Silicone LED channel series provides more DIY possibilities for creators, you can watch the installation guide video.
More tutorial videos
Looking For A Little Inspiration?
See what other DIYers have created using the Muzata Railing System!
Show Off Your Project to Win Up to $100
At Muzata, we take pride in seeing our products come to life, and we know that our customers do too. That's why we would love to receive photos of your Muzata cable railing and LED projects. By sharing them with us, we can showcase the hard work you've put into them and celebrate your creativity. Don't hesitate to show us how you've styled your projects!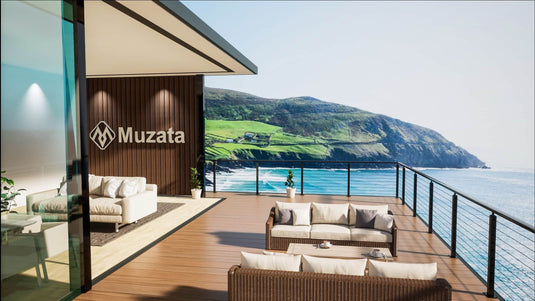 About Muzata
Muzata is a leading home improvement brand with decades of experience in both LED channel systems and cable railing systems. With strict quality control, a focus on user needs, continuous research and innovation, and patented technologies, Muzata has the expertise and products to help you bring your vision for home improvement projects to life.

We are committed to providing every customer with high-quality, design-focused, and cost-effective products using technology and innovation. In the future, we will actively and continuously provide professional home improvement solutions that make home renovation easier and better.
View More
Why Choose Us ?




➢ At Muzata, we are more than just a manufacturer; we also have a professional design team that can tailor the perfect design for your home according to your specifications and needs. We provide a detailed shopping list or even create a series of product orders directly for you.

➢ Compared to traditional balustrades, cable railing systems are more aesthetically pleasing, simpler, and lighter, with minimal shading to ensure a more open view.

➢ High quality with the advantage of cost effectiveness.

➢ Easy to install, keeps you and your family safe.
Pros Of Muzata Products.
Easy Installation
Muzata products are easy to install and only need minimal tools.
Increased Home Value
We offer quality cable railings and LED channels that can withstand the test of time for decades.
Maintenance
Our aluminum cable railings and LED Channels are known for withstanding even the harshest of weather patterns. The material requires little to no maintenance and is highly resistive to corossion.
Aesthetically Pleasing
What makes our products stand out is that they easily blend in, courtesy of the products available at Muzata that make home improvement easier and better.